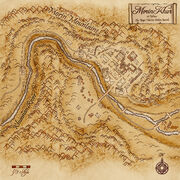 The Capital City of the Khurites, located in the eastern steppes of
Myrland
. Morin Khur has many amenities to offer. Within City limits you can find Dapplewood, Grey Wood, and Spongewood trees, Granum rocks, and Myrland Roses and Gherkins.
Crafting Tables
Vendors
NPCs

Armor Bench
Attractor
Butcher Table
Crusher
Fabricula
Furnace
Grinder
Hearth
Khurite Kiln
Natorous
Press
Shield Bench
Weapon Bench

Bone Vendor
Food

 Vendor

Gear

 Vendor

House

 Vendor

Khurite Armor

 Vendor

Leather Vendor

 Vendor

Mount Equipment

 Vendor

Mushroom

 Vendor

Reagent

 Vendor

Tindremic Armor

 Vendor

Utility

 Vendor

Wood

 Vendor

Banker
Combat Tutor
Crafting Librarian
Crafting Tutor
Equerry
Extraction Tutor
Gathering Tutor
Gear Vendor
Khurite Librarian
Magic Tutor
Shady Librarian
Veredari
Ad blocker interference detected!
Wikia is a free-to-use site that makes money from advertising. We have a modified experience for viewers using ad blockers

Wikia is not accessible if you've made further modifications. Remove the custom ad blocker rule(s) and the page will load as expected.